Corrosion resistance BEARPHITE
Corrosion resistant sintered bearings are usable bearings in environment where corrosion easily occurred such as in fuel or exhaust gas was developed.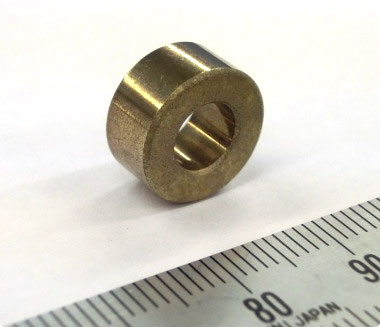 Characteristics
Low cost is realized by adopting aluminum bronze material, which is developed as the world's first sintered bearings
Excellent corrosion resistance compared to cupronickel material.
Friction and anti-wear properties improved by optimizing the material composition.
Examples of use
Fuel pumps
Exhaust gas recirculation system
Salt spray test
Test temperature : 35 ℃ / Salt concentration : 5% / Test time : 120h
| Developed material | Cupronickel based material |
| --- | --- |
| Before the test → After the test | Before the test → After the test |
| No corrosion | corroded |
→ Achieve the corrosion resistance equal or better than the over cupronickel.
Anti-wear test
PV value : 25MPa・m/min Test time : 1h
Developed material
Cupronickel based material
Specific wear rate

3

/ (N・m)
3.2 × 10

-7

30 × 10

-7
Wear resistance is cupronickel 9-times more than cupronickel
Compared with cupronickel based material
Equal or better corrosion resistance
No corrosion generated in JIS salt spray test
Same 0.1 or less coefficient of friction
9-times or more wear resistance